Post by Automatik on May 4, 2016 23:40:07 GMT
Since the Release of Sonic 4 episode 1, I noticed the lack of amodding community.
After modding for Generations kicked in, I was wondering even more.
A quick search brought me to this: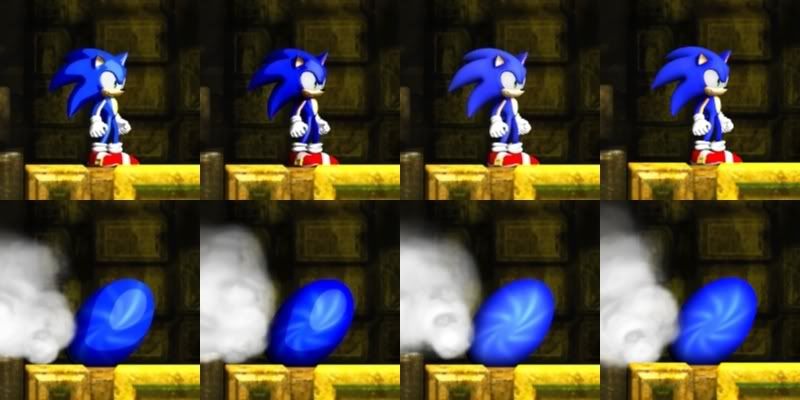 It was a variation of the Gamma and textures with the Ipad and PC verision.
The glossy appearance is what annoys a bunch of people in the PC verison.
I really liked how the mod looked and wanted it.
If found it in a thread, which seemed to be pretty much dead and had no links.
(SEGA forums and user ezodagrom to be exact)
So I tried to do a similar thing for myself.
I was unable to get the textures out of the Android version (which should be the same as the Ipad verison) of Sonic 4,
so I thought about a different solution.
After redownloading Episode 2, I happily found out that it uses the same .AMB format for resources.
That brought me to experiment more.
I tried to add Metal Sonic from Episode Metal, since he has pretty much the same amount of Animations and abilities as Sonic in Episode 1.
After a lot of swaping, trying and renaming, I accomplished this:
It looked like a promising start. But that was it.
Every time, I wanted to go to a stage, the game froze at loading.
After that I tried to use Sonics original animations file again.
I knew, it would look bad, but maybe it could be a workaround to get it ingame.
This was the rather disappointing result:
Like predicted, it looked wheird. Sadly it didn't work ingame.
After these tries, I tried to find software to acomplish more.
The first application, I found was an AMB unpacker called AMBextract from user sonicblur fo Sonic Retro.
It allowed me to actually see the textures and the other resources.
I got more interested into the texture hack again and exported Sonics textures.
They look like this in Episode 1:
They look pretty flat and brighter that you might excpect. We'll come to the brightness later.
There were also two textures called TOON001 and SPINTOON001 which both looked like this:
The "TOON" already made it suspicious.
Compared to that, I also exported Episode 2's Sonic textures:
besides being only halft the size, they are much more detailed and pretty much match the color, you see ingame.
Also no "toon gamma".
Both games have eye textures. I didn't opload them here, because they are pretty much the same and were not
relevant for my project.
After further research, I found another application called QuickBMs with a Sonic 4 plugin and instrucions on a thread on
Sonic Stadium by user DarkspineSilver1.
After again some Metal Sonci import failiures, I changed Sonic's textures to the ones from Episode 2,
while letting that "Toon001" files unchanged.
This is the result:
while still very glossy, I was quite satisfied with my first texture import.
After that, I edited both "TOON001" textures and made them transparent.
The result, which is the one, I prefer in the end looks like this:
I also made a video, because I will release it as a mod in a different thread:
Curious because of the gamma, I experimented further and imported it as a gradient texture
like this:
With it, Sonic turned out like this:
Sonic looks a lot darker than before.
This explains, why Episode 1's original texture is that bright.
I think that using original texture and this gradient could give some nice results,
but I haven't tried that yet, because I'm quite busy.
All this progress happened in like two days.
I also tried to port the Classic Sonic from Episode 2 and experimentes with Metal Sonic, but I didn't succeed.
Although those experiments failed I plan to research more to accomplish it.
I will be posting more progress in the future.
Detailed tutorials bout importing textures and so on could also come.